SPL was established in 2001 and is a wholly owned company of Lianhe Chemical Technology Co., Ltd. (Share code 002250). SPL is located in Baoshan city industry park in Shanghai, with very good connectivity and transport system , close to the neighborhood and the outer ring road of shanghai, and 13km away from Hongqiao international airport, and 12km away from  Shanghai Railway Station. SPL factory is built in an area of 27,000m2, which includes the main building area of 18,000m2. The company is ISO 9001:2015 certified and strictly follows the guidelines laid down under this Quality management system.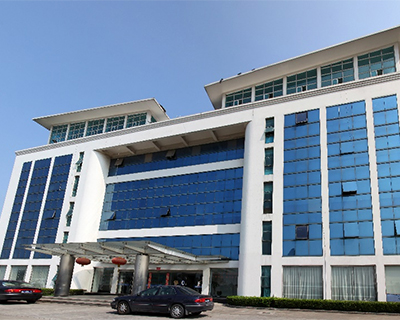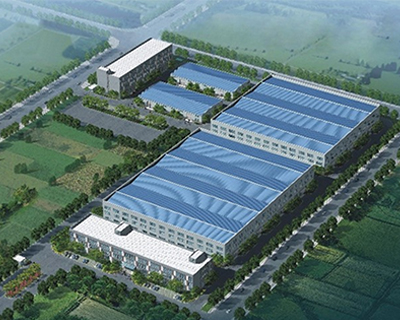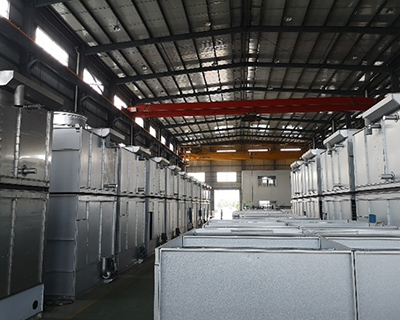 SPL is specialized in development, design, sales and turnkey projects for Heat-exchange equipment. Our main products are Evaporative condenser, Air cooler, Evaporative air cooler, Closed circuit cooling tower, Refrigerating auxiliary equipment, pressure vessel, ice storage cooler system of Grade D1 and D2. There are more than 30 series and 500 types of products that are widely used for Air Compressor Cooling, Metallurgical Furnaces Cooling, Vacuum Furnace Cooling, Melting Furnace Cooling, HVAC Cooling, Oil and Other Process Fluid Cooling, Ground Source Heat Pump System Cooling, Data Centers, Frequency Converters, Injection Machines, Printing Lines, Drawbenches, Polycrystalline Furnaces, etc. for food, brewery, pharmacy, chemical, photovoltaic, Metal smelting industry etc.
Hi-Tech Manufacturing Equipment
Our core manufacturing equipment is imported directly from Germany.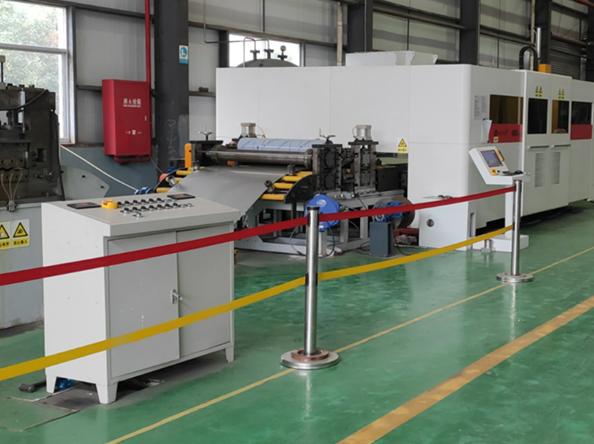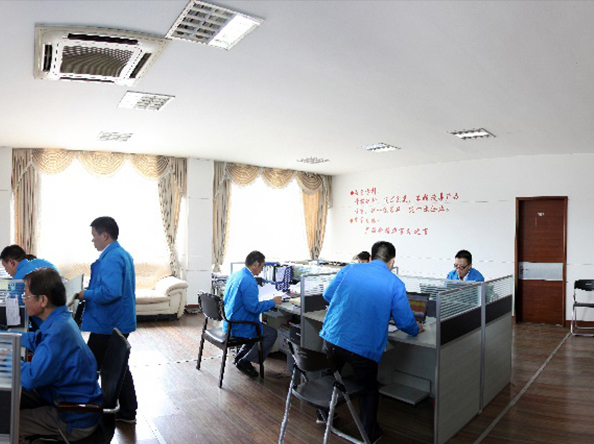 We have 6 senior engineers, 17 engineers, 24 assistant engineers in our R&D centre, all of them are doctors or professors from University of Science and Technology of China.  
Super Galum Wall 
The shell is made of the super Aluzinc plate with strong corrosion resistance and durability which is 3-6 times more than that of the common Aluzinc plates. The plates have strong thermal resistance, and aesthetic in appearance.
55% Aluminum—— Advantage: Heat resistance, long lifetime

43.4% Zinc—— Advantage: Stain resistance

1.6% Silicon——Advantage: Heat resistance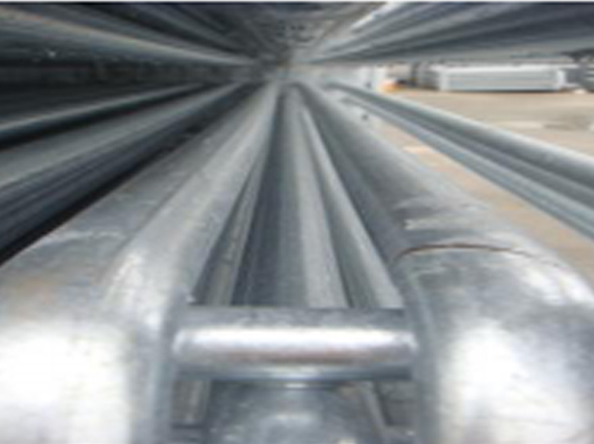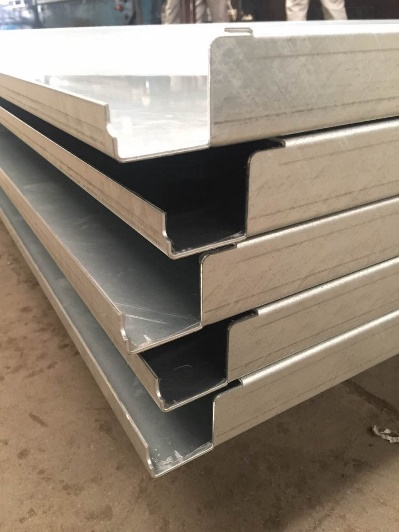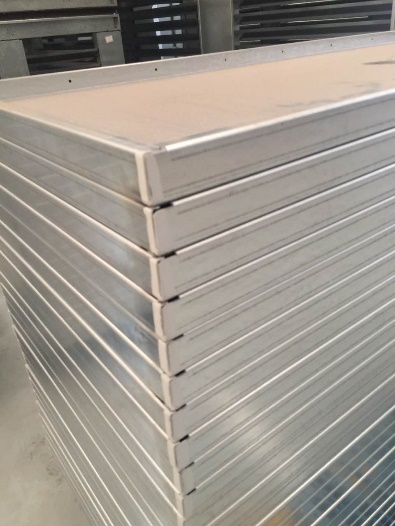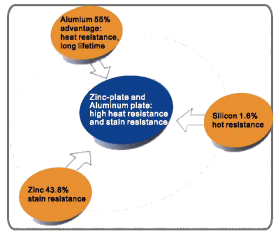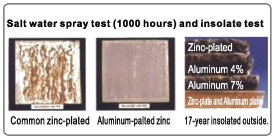 Super Galum is the brand name for 55% aluminum-zinc coated steel sheet. Super Galum is highly heat and corrosion resistant, combining the properties of aluminum which renders increased durability, excellent heat resistance, formability, and those of zinc which offers high heat resistance and excellent corrosion protection. Super Galum is three to six mes more corrosion resistant than regular zinc costed steel sheet.
SPL's exclusive condensing coils are manufactured at SPL from high quality steel tubing following the most stringent quality control procedures. Each circuit is inspected to assure the highest material quality.
All SPL coils are formed in one continuous piece using a unique automatic coil production line, this process limits welding slag, increases production efficiency and factory lead times.
The coils are hydrostatically tested atleast 3 times during the manufacturing process at 2.5MPa pressure to ensure they are leak free.
The protect the coil against corrosion, coils are placed in a heavy steel frame and then the entire assembly is dipped in molten zinc (hot-dip galvanized) at a temp of 427oC, the tubes are pitched in the direction of fluid flow to provide good liquid drainage.
SPL's standard coils offer the most effective performance of heat transfer with the coil technology and fill combination to avoid the dry spot and dirt forming on the coils.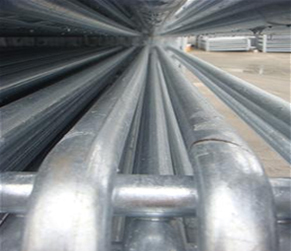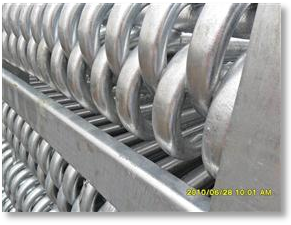 The cabinets of BTC adopt dacromet bolt to connect, the inoxidability is more perfect than common bolts, meanwhile it assures the cooler's stable working for long time.
The axial fan of SPL lines uses specific carbon fiber blades forward curved fan, this offers, high air volume, low noise, perfect performance with high efficiency.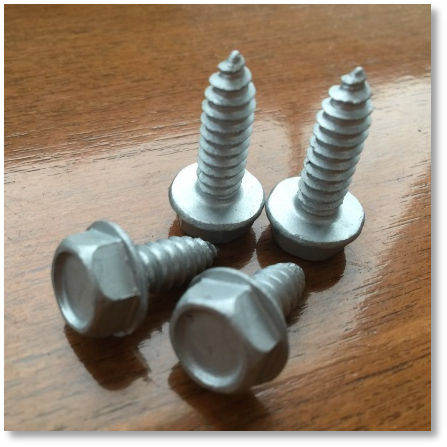 SPL'S exclusive patented maintenance free spray nozzle remains clog-free while providing even and constant water distribution for reliable, scale -free evaporative cooling under all operating conditions. Furthermore, the nozzles are mounted in the corrosion -free water distribution pipes and have threaded end caps.
Together, these elements combine to provide unequaled coil coverage and scaled prevention, which makes them industry's best performing non-corrosive, maintenance-free water distribution system.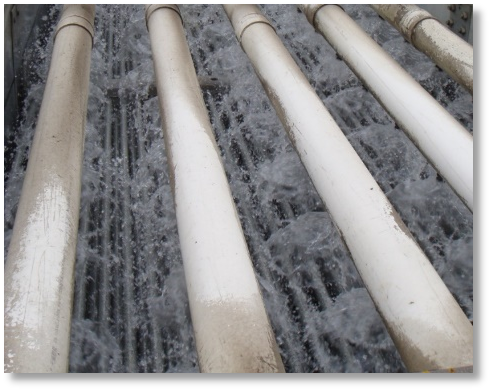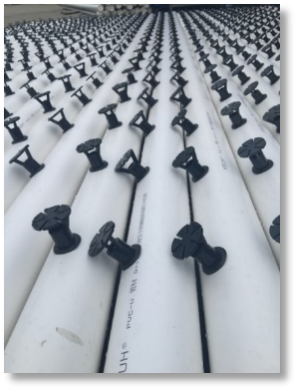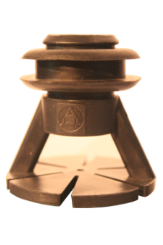 High efficiency Siemens drive motor, with mass flow and low noise. It utilizes non-steering restricted superior mechanical seal, leak free and long lifetime.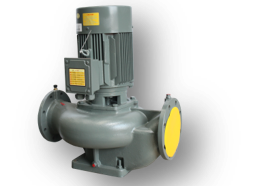 Electronic De-scaling Cleaner
The electronic de-scaling cleaner offers 98% increased effectiveness over of water scale inhibition and over 95% increased sterilization &algae removal over high-frequency electronic technology. Designed especially for closed loop cooling towers and evaporative condensers with low power consumption.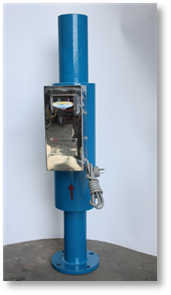 Patented PVC honeycomb type stuffing
SPL® fill design used in the S lines evaporative condenser and cooling tower is specially designed to induce highly turbulent mixing of the air and water for superior heat transfer. Special drainage tips allow high water loadings without excessive pressure drop. The fill is constructed of inert polyvinyl chloride, (PVC). It will not rot or decay and is formulated to withstand water temperatures of 54.4ºC. Because of the unique way of honey -comb in which the cross-fluted sheets are bonded together, and the bottom support of the fill section, the structural integrity of the fill is greatly enhanced, making the fill usable as a working platform. The fill selected for the Condenser and Cooling Tower has excellent fire resistant qualities.
PVC honeycomb type stuffing and the short horizontal air inlet design can ensure the heat absorption by the cool air immediately.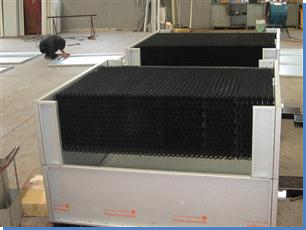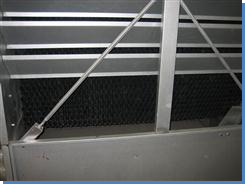 Patented Air Inlet Louver
With the two pass louver system, the water droplets are captured on the inward sloping pass, minimizing splash-out problems. SPL's unique louver design for all SPL's N lines completely encloses the basin area. Direct sunlight is blocked from the water inside the condenser and cooling tower, thereby reducing the potential of algae formation. Water treatment and maintenance costs are substantially reduced. While effectively containing the recirculating water and blocking sunlight, the louver design has a low pressure drop. The low pressure drop results in lower fan energy consumption, which reduces the operating costs of the cooling tower.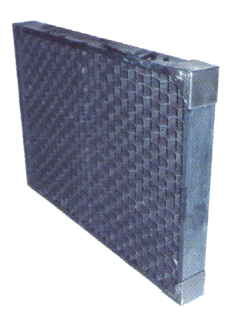 Slope basin with convenient cleanout
The slope of basin bottom to drain pipe can clean out the sewage and impurity conveniently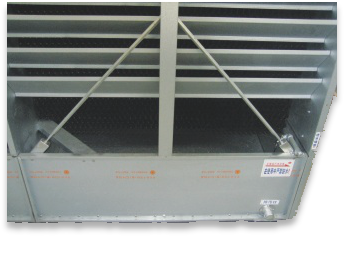 Advanced Elliptical Coil Technology
The new latest evaporative condensers utilizes patented elliptical fin coils design which assures even greater operating efficiency. The elliptical tube design allows for closer tube spacing, resulting in greater surface area per plan area than round-tube coil designs. In addition, the revolutionary elliptical design utilizes elliptical spiral fin coil technology and has lower resistance to airflow than typical finned coil designs. This permits greater water loading, making the new elliptical coil the most efficient coil design available on the market.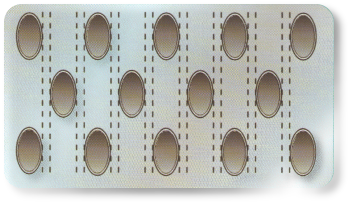 BTC Series-New type of wallboard drainage-Patented Design
The new drainage hole at wallboard bent corner is designed to discharge the rainwater, reduce bolts and wallboard corrosion, make less effect on the seal and whole appearance, and extend the service life.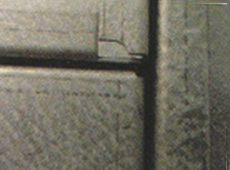 Containerized Design for Low Shipping Cost
SPL Series products are designed to be shipped in kit from that fits in containers.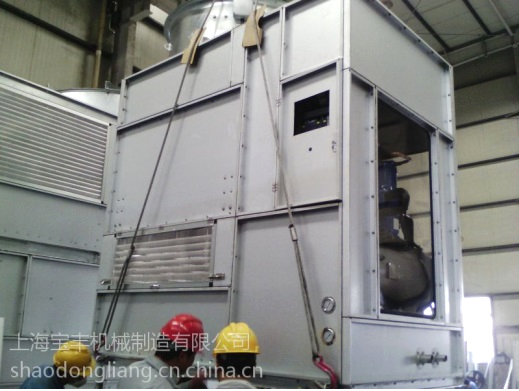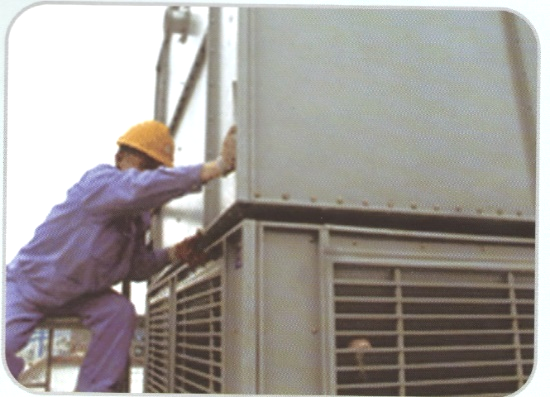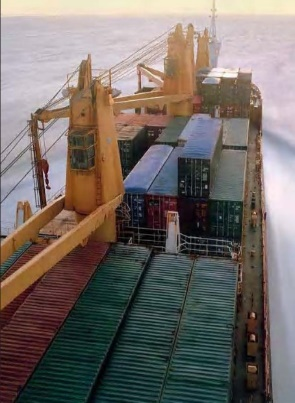 Large Access Doors and generous inner chamber makes for convenient examination and repair. The sloped ladder outside is easy to up and down.
The ball cock and filter of SPL Series can be examined and repaired without stopping the operation of the condenser due to the same direction for airflow and water flow. The nozzles and coils also can be examined and repaired during operation.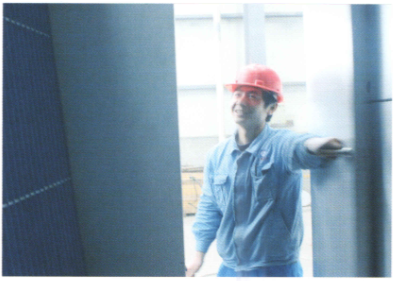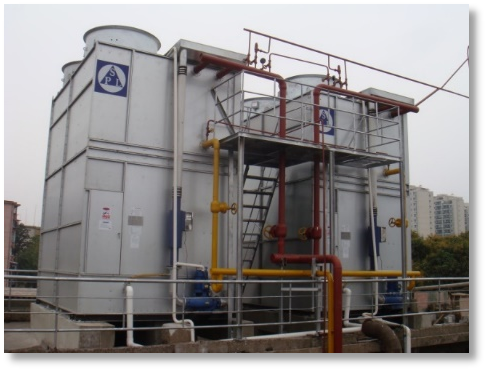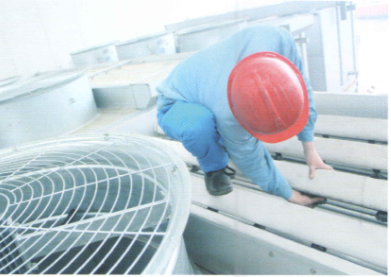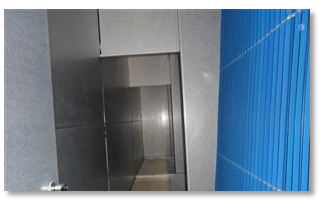 Containerized Design for Low Shipping Cost
SPL Series products are designed to be shipped in kit from that fits in containers. 
3.2 Finished Products Testing.
 We have established in-house cooling tower test platforms, with different kinds of tube in Shanghai. In co-operation with East China University of Science and Technology university, we do enterprise cooperation to apply the most advanced scientific theory both domestic and export products of the company. We continue to lead the market trend with the best equipment, the latest technology. We have participated in six draft Shanghai local standard and one industry standard.
We build different types of test platform for Evaporative condensers , to ensure high quality and high performance of outgoing product.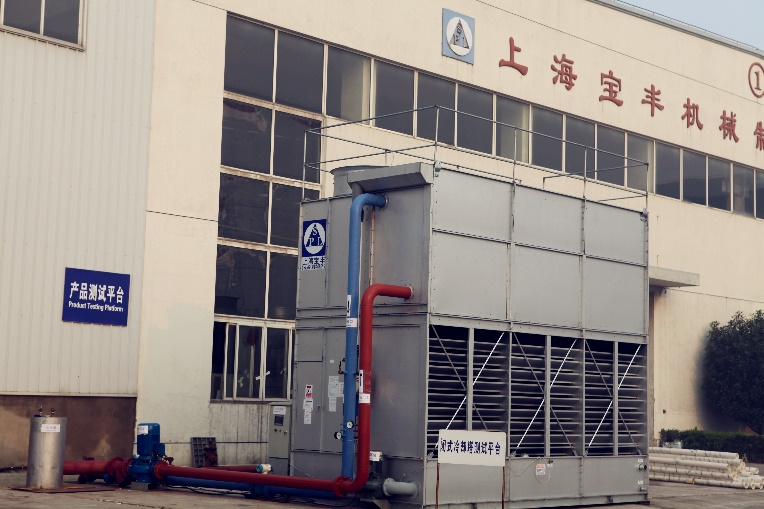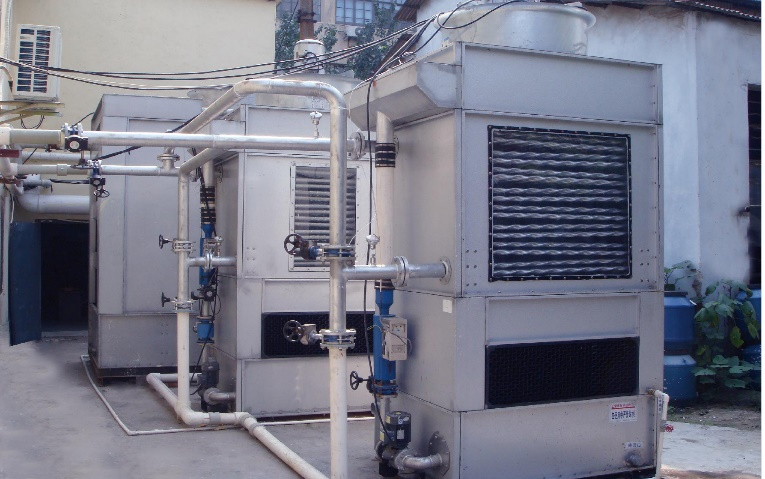 We are dedicated to build First-class enterprises, make first-class products. CTI (Cooling Technology Institute) from USA certified  our Cooling Towers every year, our product performance has given us the leading position in China.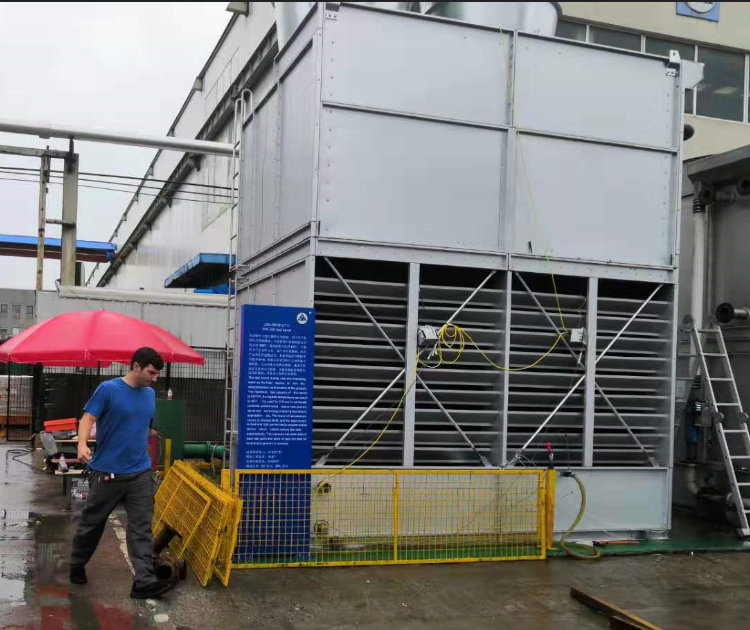 We successfully developed the first set combination air cooler for poly-silicon project located in a dry area prone to sandstorms in China which offers water and Energy saving. Special designed air inlet structure prevents sand and dust into the equipment with the wind, also it greatly reduces the circulating water loss. Full frequency conversion fan, achieves fine temperature control, and more Energy saving. Reinforced equipment structure, one time investment, long life, closed water distribution system with scientific spray device, better on saving water.
China Fist natural gas evaporative cooling project in CNOOC
China Fist sulfur dioxide condensation recovery plant project in West Mining
China Fist  Ethyl acetate condensation plant project in Xinfu Bio. 
Containerized Design for Low Shipping Cost
Customized sizes and shapes are available. Welcome to share your idea with us, let's work together to make life more creative.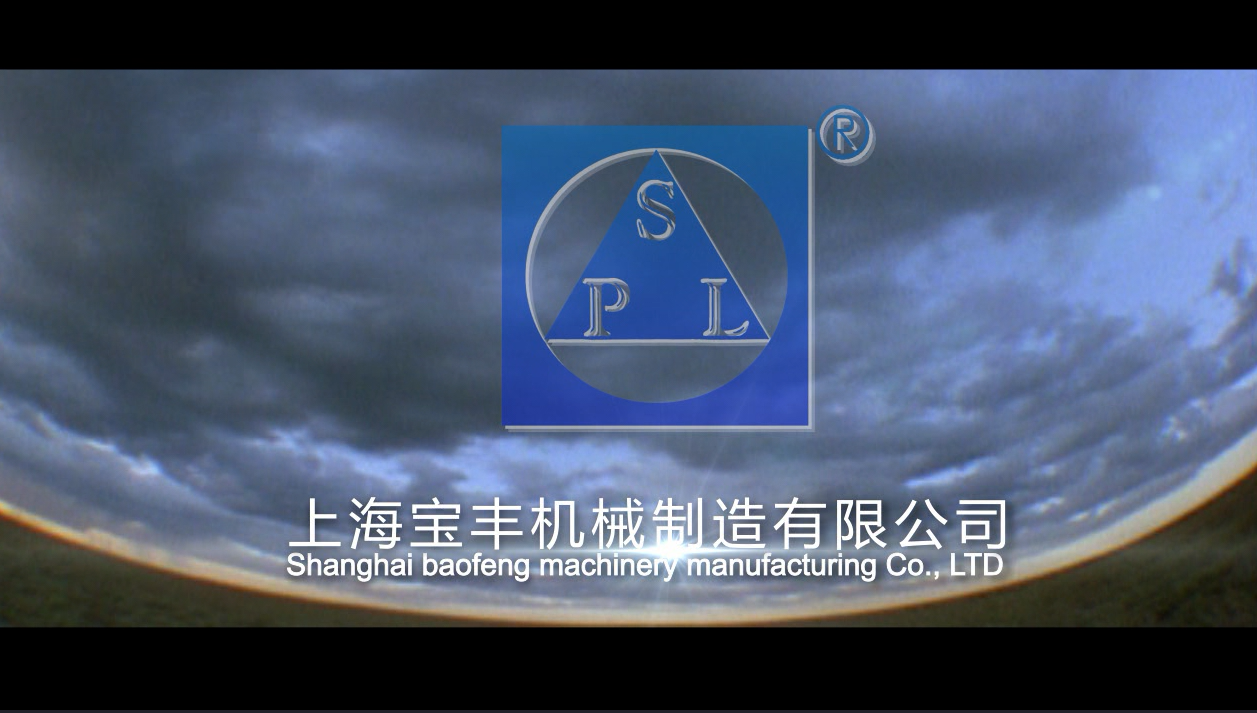 SPL was established in 2001 and has been producing heat exchangers for 20 years. We have in-house research and development ability, as well as industry-advanced level in processing, heat treatment, machining, physical and chemical testing, quality control abilities.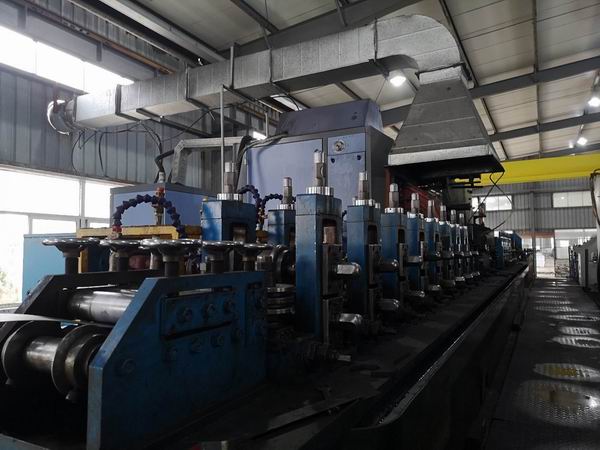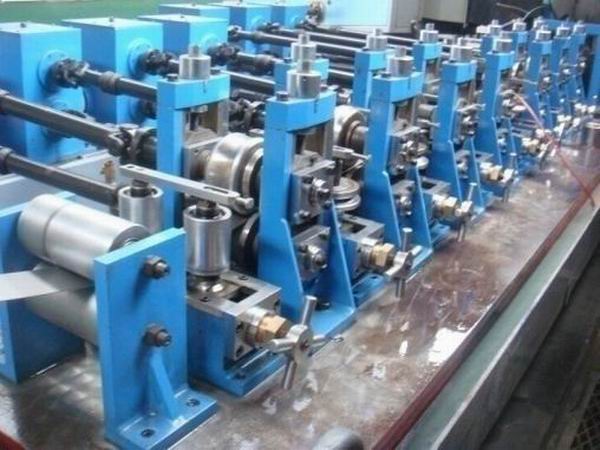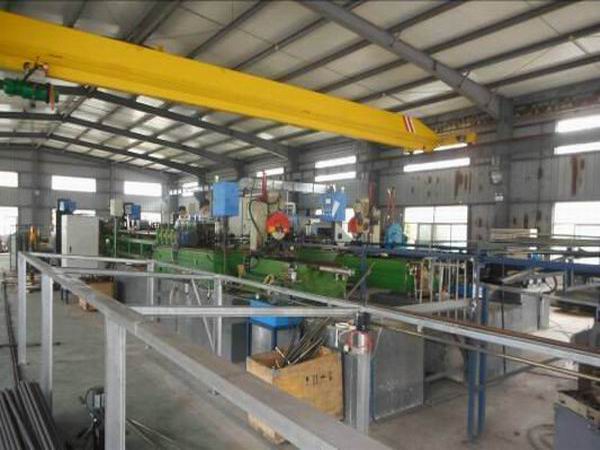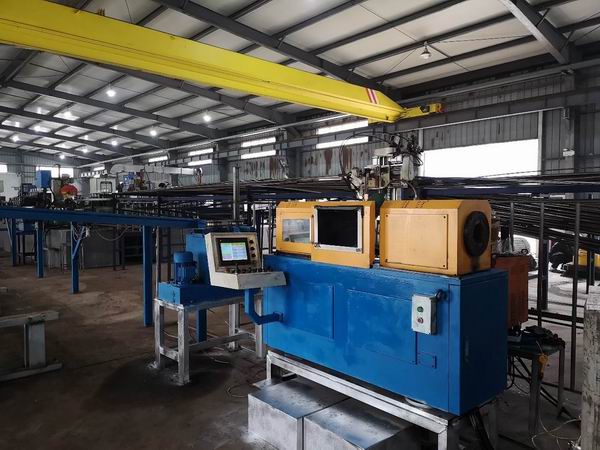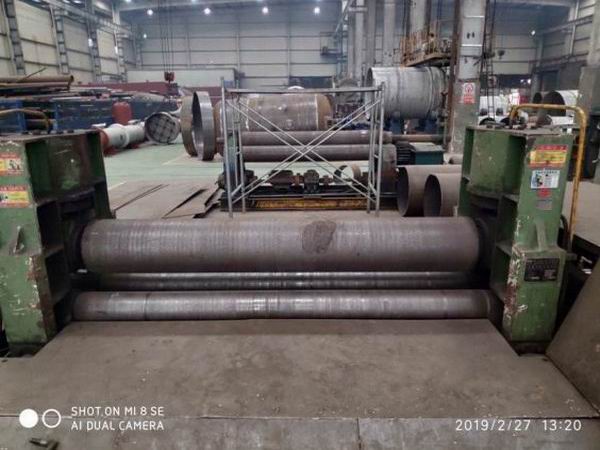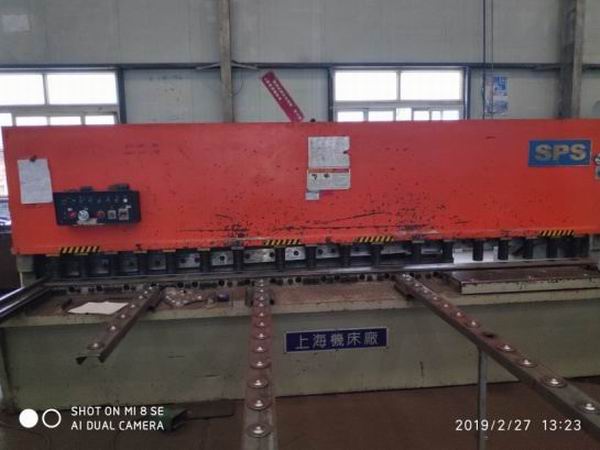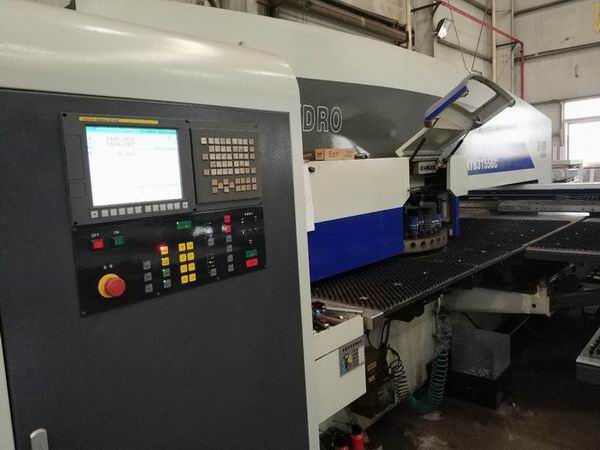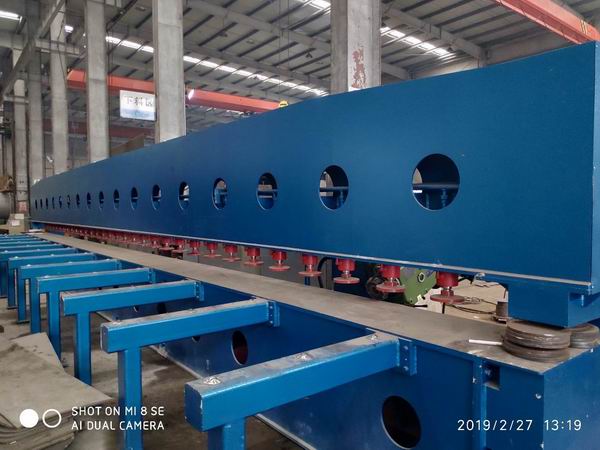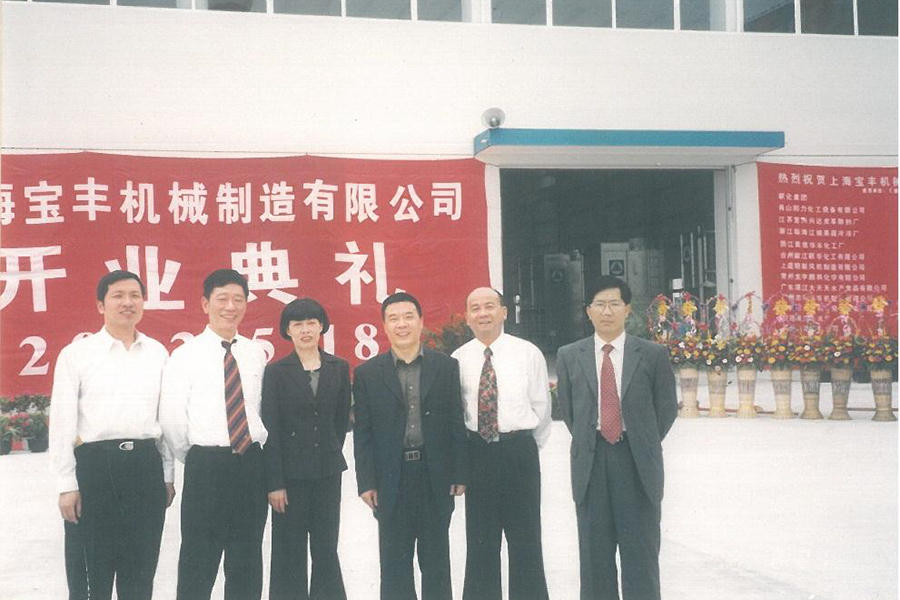 2002 First successful evaporative condenser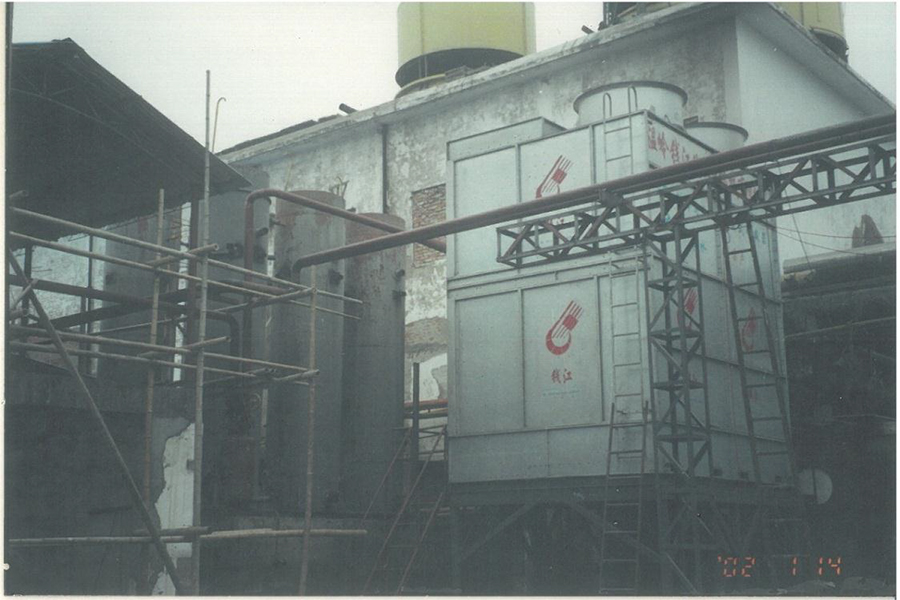 A group of excellent personnel is dedicated to high quality chemical heat-exchange equipment with decades of experience on R&D and manufacturing. The team includes 6 senior engineers, 17 engineers, 24 assistant engineers, and 60 technicians. The company owns many advanced manufacturing facilities and inspection instruments from home and aboard, such as automatic welding center, X-Ray machine, ultrasonic machine, shocking testing machine, tension testing machine. SPL's industry leading position is guaranteed by fully introducing latest technology for home and aboard, taking the advantages, and excellent machining technique and skill.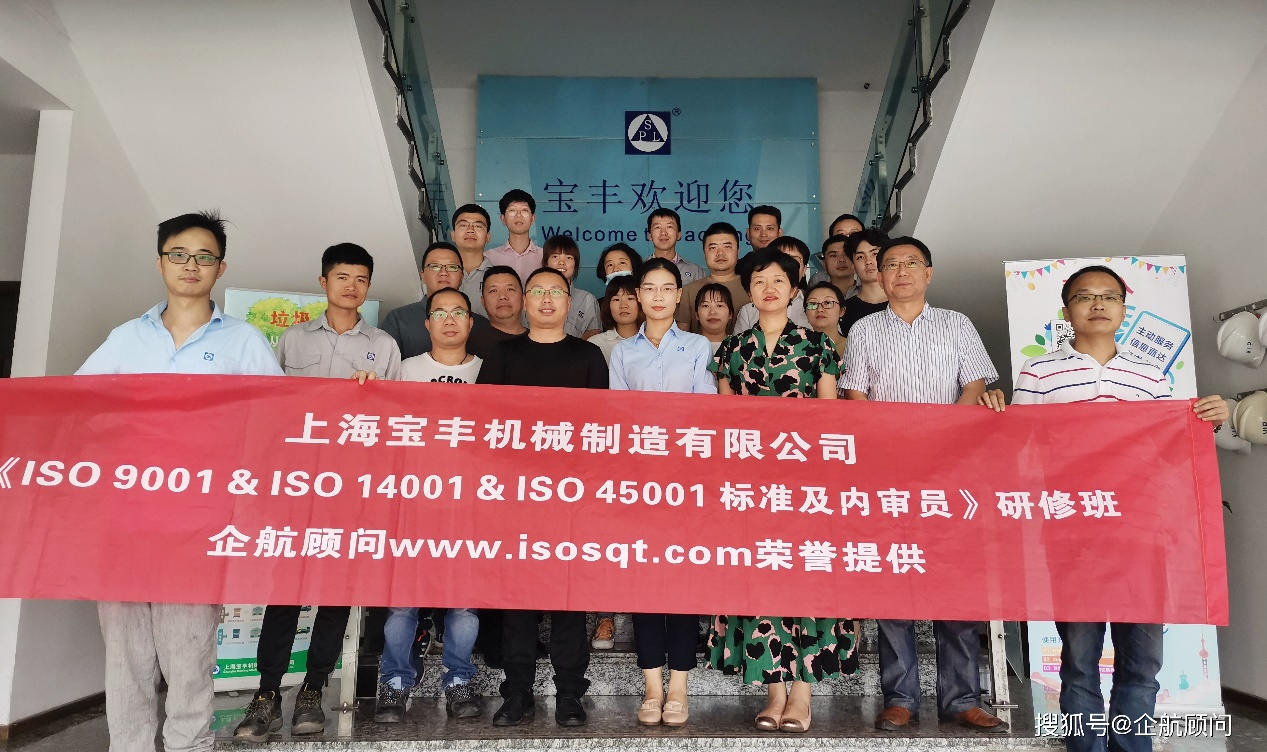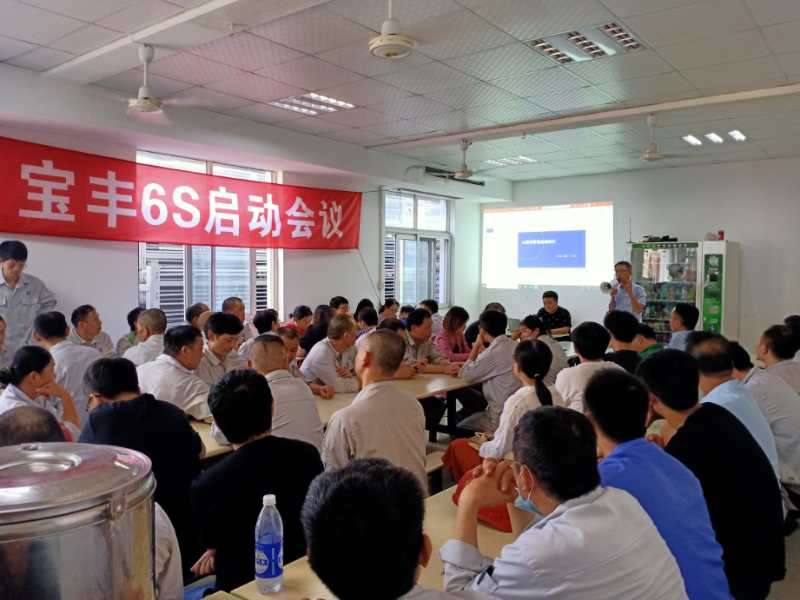 A world brand is supported by a corporate culture. We fully understand that her corporate culture can only be formed through Impact, Infiltration and Integration. The development of our group has been supported by her core values over the past years -------Honesty, Innovation,Responsibility, Cooperation.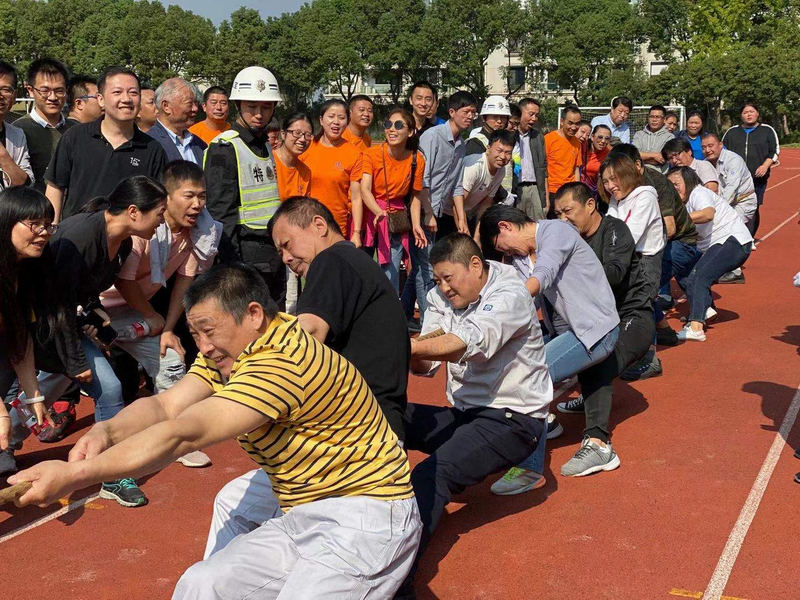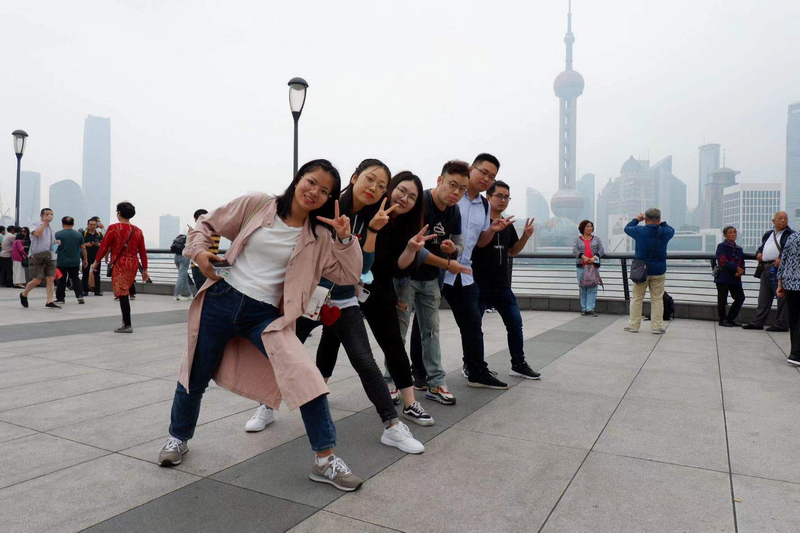 Our group always adhere to the principle, people-oriented, integrity management,
quality utmost, premium reputation Honesty has become
the real source of our group's competitive edge.
Having such spirit,We have taken every step in a steady and firm way.
Innovation is the essence of our group culture.
Innovation leads to development, which leads to increased strength,
All originates from innovation.
Our people make innovations in concept, mechanism, technology and management.
Our enterprise is forever in an activated status to accommodate strategic and environmental changes and be prepared for emerging opportunities.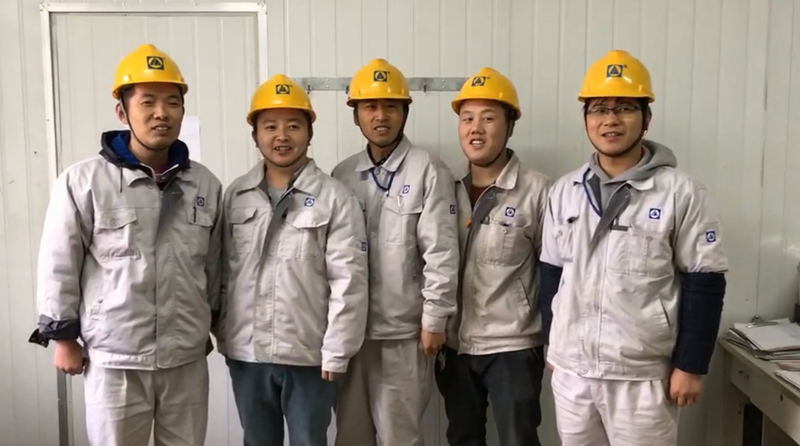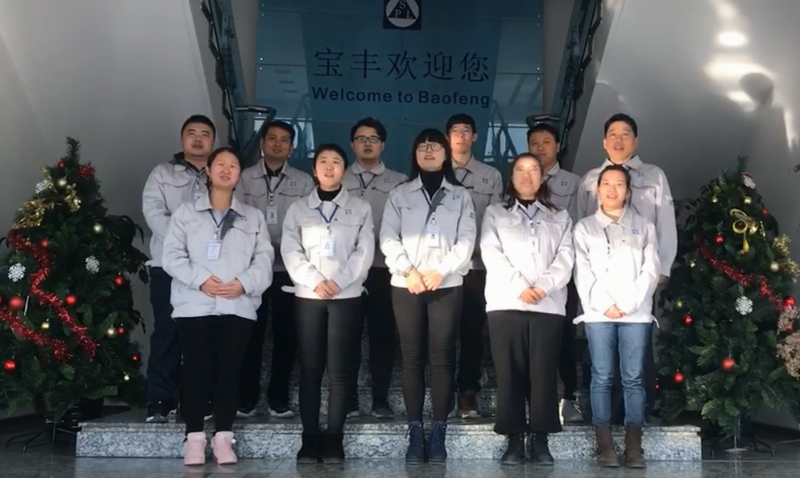 Responsibility enables one to have perseverance.
Our group has a strong sense of responsibility and mission for  clients and society.
The power of such responsibility can not be seen, but can be felt.
It has always been the driving force for the development of our group.
Cooperation is the source of development
We strives to build a cooperate group
Work together to creat a win-win situation is regarded as a very important goal for the development of corporate
By effectively carrying out integrity cooperation,
Our group has managed to achieve integration of resources, mutual complementarity,
let Professional people give full play to their specialty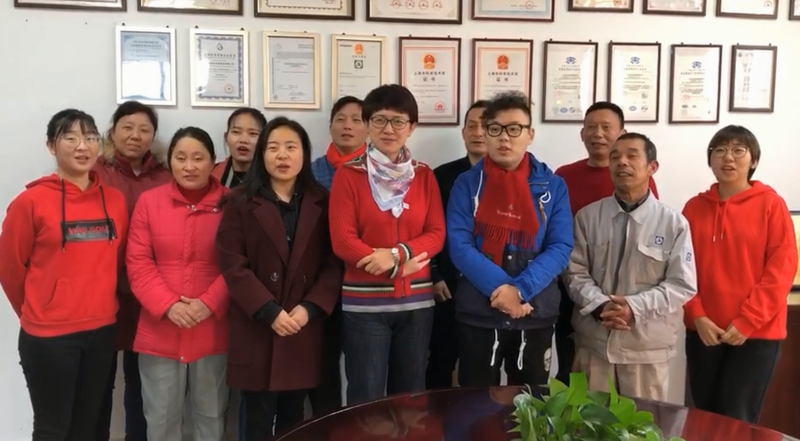 AWESOME WORKS THAT OUR TEAM HAS CONTRIBUTED TO OUR CLIENTS!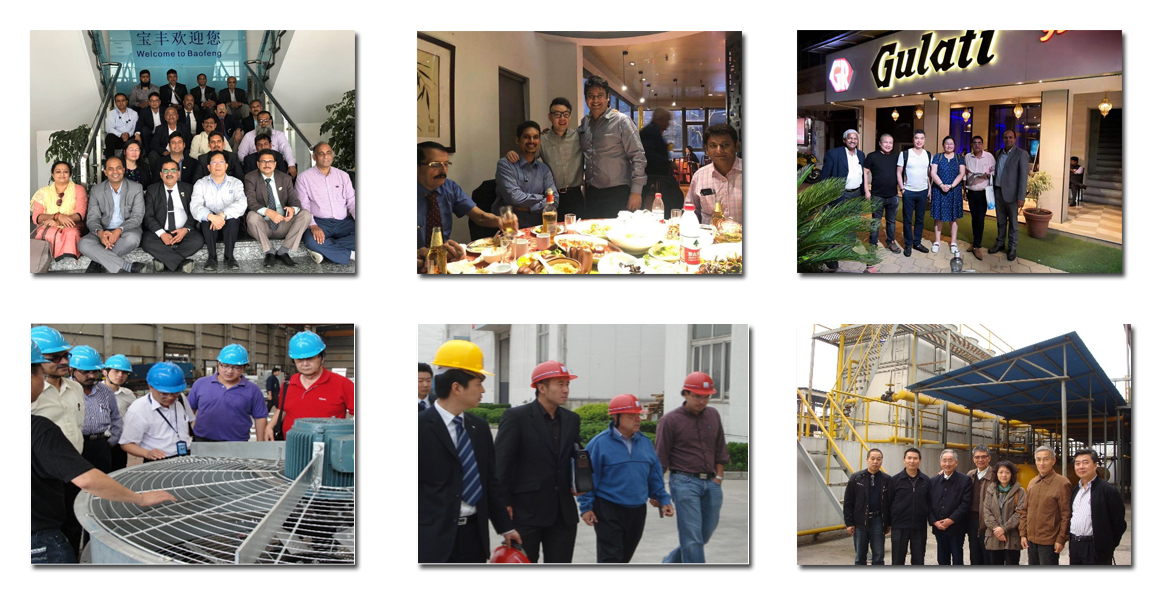 S- SPECIAL achieve multi-win-win
Focus on the development, design, manufacturing, sales and project services of heat transfer equipment;
Establish close cooperative relations with Shanghai Jiao Tong University, South China University of Technology, Shanghai Ocean University, East China University of Science and Technology, Harbin University of Commerce,
Own one national invention patent and 22 utility model patents;
Be the technology and research base of South China University of Technology in enhanced heat transfer and energy-saving;
Participate in the formulation of 6 Shanghai local standards as:
✔ "Evaporative condensers energy efficiency limit value and energy efficiency rating"
✔ "Cold storage power consumption per unit limited value and energy efficiency rating"
✔ "Enterprise energy management standard system"
✔ "Ammonia cold storage production safety norms"
✔ "Closed cooling tower energy efficiency standards"
✔ "Pultrusion molding process axial fan energy efficiency and energy-saving evaluation limit values"  
Participate in the standard "Far-mounted mechanical ventilation evaporative refrigerant condenser laboratory test methods" formulation for National Refrigeration Standardization Technical Committee.
✔ Own excellent R&D engineers' team and manufacturing skilled workers with decades of experiences.
✔ Own advanced production and testing machines such as automatic welding center, impact testing machines, etc.
✔ Own the domestic most advanced automatic pipe production line, and pipe bending line.
✔ Own D1, D2 pressure vessel design and manufacture license.
✔ Own ISO9001-2015quality management system certificate.
✔ Pass CTI certification.
✔ Own GC2 pressure pipe installation qualification.
✔ Develop evaporative condenser analysis software with Shanghai Ocean University, and be awarded the computer software registration certificate for NCAC.
✔ Shanghai Science and Technology Giant Breeding Enterprise.
✔ Shanghai High-Tech Enterprise.
✔ Shanghai Science and Technology Invention – Second Prize.
✔ Shanghai Science and Technology progress- Third Prize.
✔ Shanghai Contract Credit AAA Class.
✔ Member of Shanghai Energy Conservation Association.
✔ Governing Member of Shanghai Science and Technology Enterprises Association.
✔ Member of Shanghai Association for Promotions of Science and Technology Achievements. 
L- LEADING the industry development
✔ The first case of Shanghai Gaoqiao Sinopec catalytic cracking cooling project;
✔ The country's first case of CNOOC(China National Offshore Oil Corporation) natural gas evaporative cooling project;
✔ The country's first case of WESTERN MINING sulfur dioxide condensing recycling project;
✔ The country's first case of XIN FU biochemical ethyl acetate evaporative cooling project;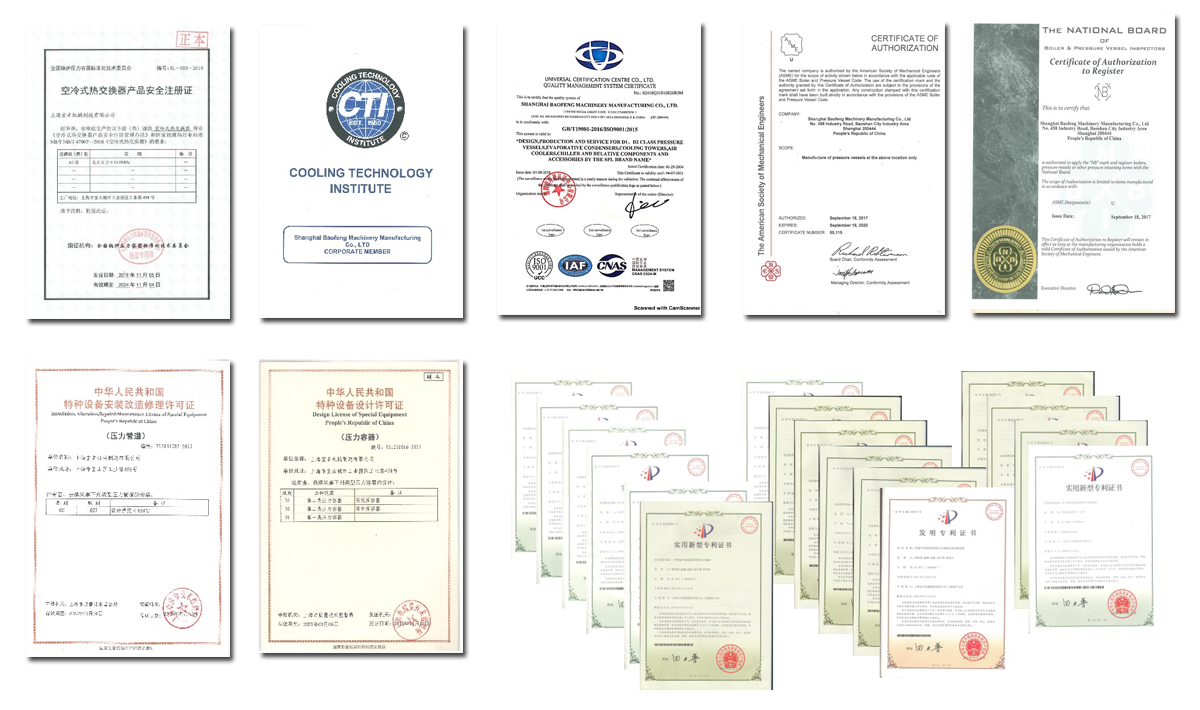 EXHIBITION STRENGTH DISPLAY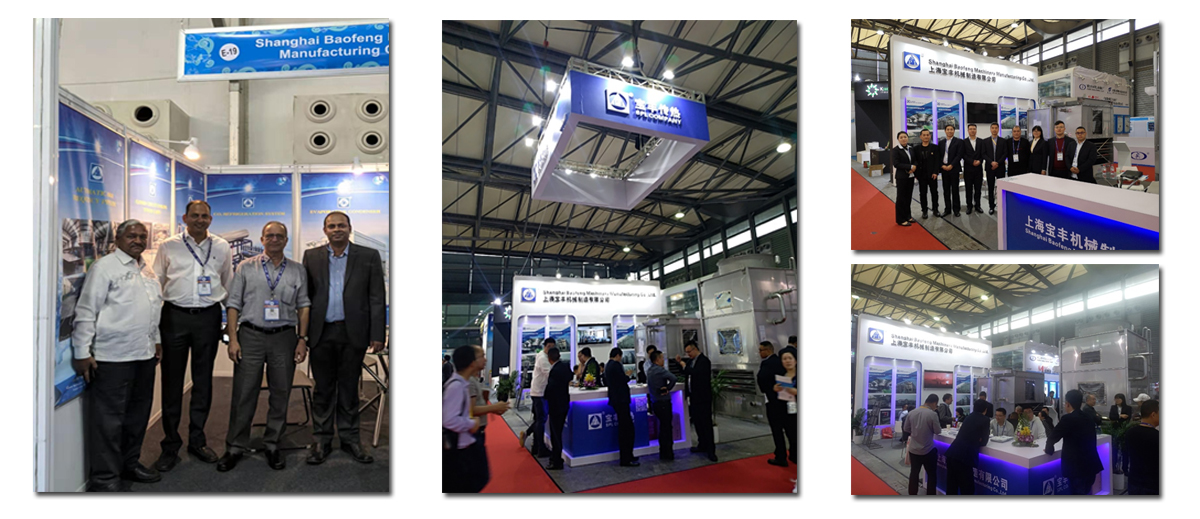 Know more about us,will help you more
- Inquiry and consulting support 20 years refrigeration technical experience.
- One-to-one sales engineer technical service.
- Hot-line of service is available in 24h, responded in 8h.
- Technical training Equipment evaluation;
- Installation and debugging Troubleshoot;
- Maintenance Update and improvement;
- One-year warranty. Provide technical support free all-life of the products.
- Keep all-life contacting with clients, get feedback on use of the equipment and make the products quality continually perfected.