Evaporative Condenser – Cross Flow
Product Detail
Product Tags
■ Continuous Coil with no seam welding
■ SS 304 coils with Pickling & Passivation
■ Direct Drive Fan saving Energy
■ Electronic De-scalar to reduce Blow down cycle
■ Patented Clog free nozzle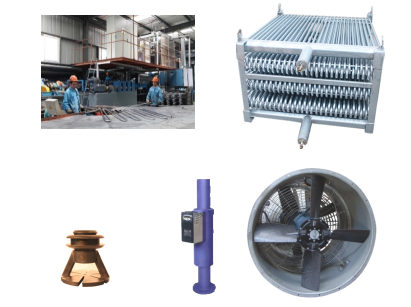 •Material of Construction: Panels and Coil available in Galvanized, SS 304, SS 316, SS 316L.
•Removable Panels (optional): To easily access the Coil and Internal components for cleaning.
•Circulating Pump: Siemens /WEG Motor, Steady running, low noise, Large Capacity but low power.
•Detachable Drift Eliminator: Non corrosive PVC, Exclusive design
Principle of Operation: The BTC-S series uses the combined flow technology, which improves the efficiency of cooling of process water, glycol-water solution, oil, chemicals, pharma liquids, machine cooling acids and any other process fluids.
The process fluid is circulated inside the coil from where heat is dissipated.
Spray Water and fresh air flow parallel over the condensing coil, which helps to reduce the scale forming "hot spots" that may be found in other conventional Cooling towers. The Process fluid loses its Sensible / Latent Heat as it travels from bottom to top inside the coil sprayed with water and induced air. Reduction in Evaporative cooling component helps to minimize the formation of scale on the coil surface. A portion of this evaporated heat is discharged sideways to atmosphere by the induced air.
The non-evaporated water falls down through the fill section, where it is cooled by a second fresh air stream using evaporative heat transfer media (Fills) and eventually to the sump at the bottom of the tower, where it is recirculated by the pump up through the water distribution system and back down over the coils.
| | |
| --- | --- |
| •Cold Chain | •Chemical Industry |
| •Dairy | •Pharmaceutical |
| •Food Process | •Ice Plant |
| •Seafood | •Breweries |
---
Previous:
Closed Loop Cooling Tower – Cross Flow
---