Open Type Steel Cooling Tower – Cross Flow
Product Detail
Product Tags
■ High Performance Heat transfer Media.
■ High efficiency, energy saving and environmental protection
■ Compact shape, easy installation
■ Strong anti-corrosion ability, long service life.
■ Patented Clog free nozzle
■ Energy - saving and environmental - friendly heat exchange equipment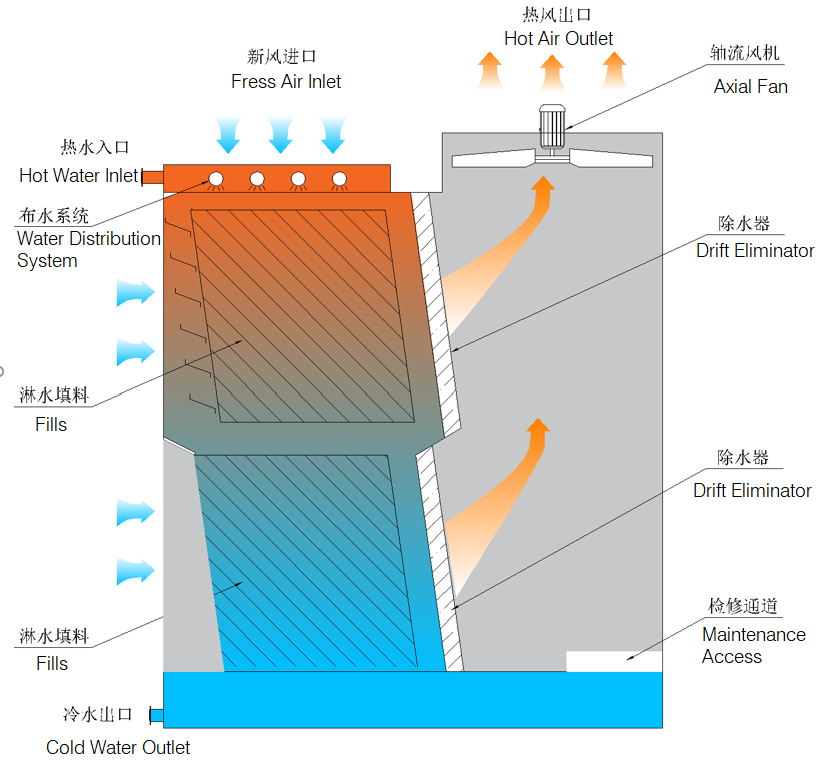 •Material of Construction: Panels and Coil available in Galvanized, SS 304, SS 316, SS 316L.
•Removable Panels (optional): To easily access the Coil and Internal components for cleaning.
•Circulating Pump: Siemens /WEG Motor, Steady running, low noise, Large Capacity but low power.
•Detachable Drift Eliminator: Non corrosive PVC, Exclusive design
Principle of Operation: Hot process water from the Load / system / process enters the water distribution system at the top of the cooling tower where it is distributed over the highly efficient fills or heat transfer media. The axial fans, located at the top of the unit, induce air from the side of the unit over the fills. The fills enhances the air flow, increases the heat transfer area between the process fluid and the air, and improves the convection heat transfer.
Inlet Louvers protects the tower from foreign particles being drawn into the unit. When the hot process water comes in contact with the cold air, the air heats up and part of the process water is evaporated which removes the heat from the remaining water. Cold water falls down in the basin below after which it returns to the system / load. The warm saturated air exits the tower from the top, before it passes through the drift eliminators, which traps water droplets from the air putting it back in the basin below.
| | |
| --- | --- |
| •Chemical | •Tyre |
| •Steel Plant | •Polyfilm |
| •Automobile | •Pharmaceutical |
| •Mining | •Power Plant |
---
Previous:
Evaporative Condenser – Cross Flow
Next:
Air Cooler
---